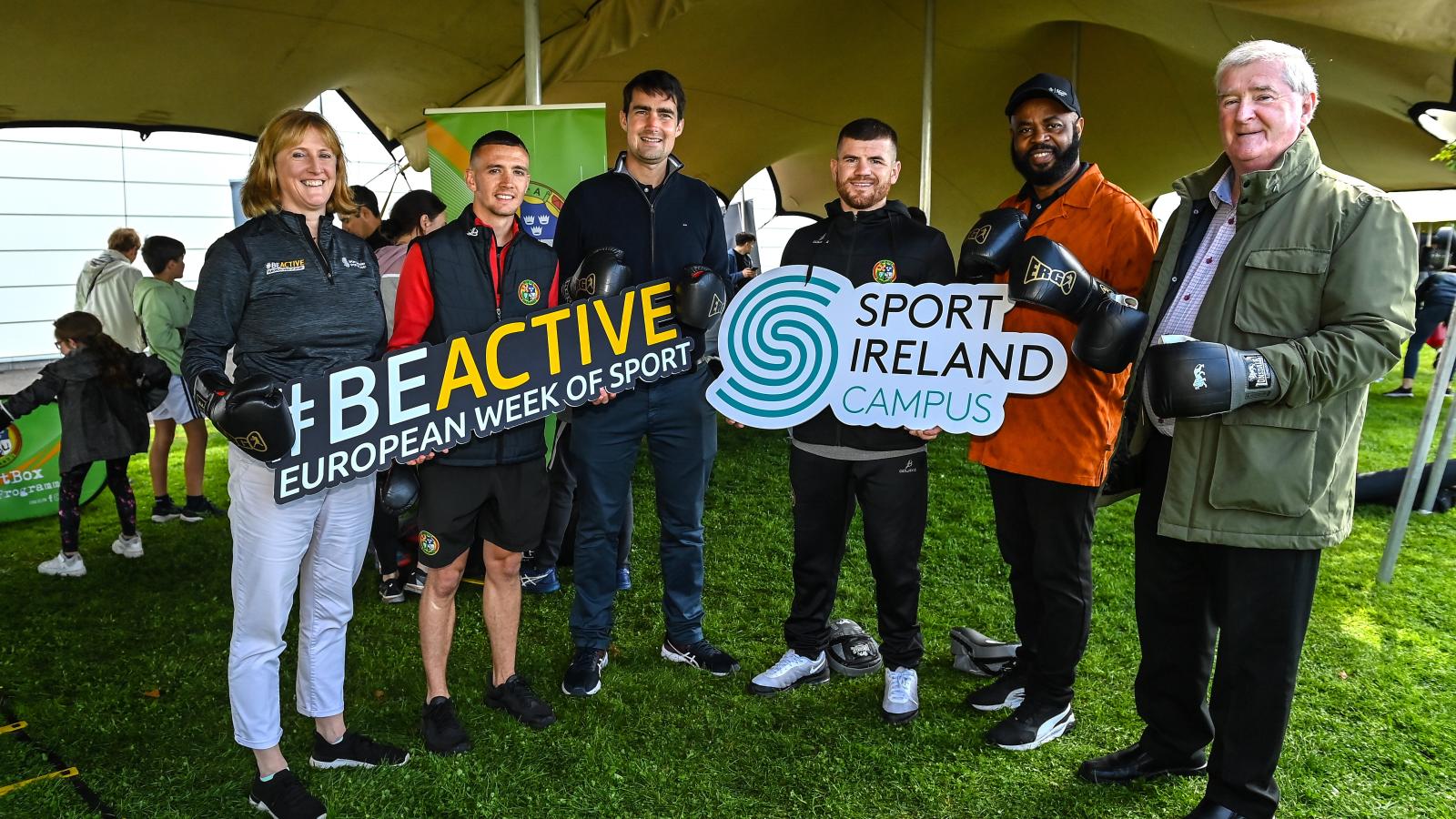 #BeActive Festival Brings Young and Old Together at Sport Ireland Campus for European Week of Sport
Over 4500 people visited the Sport Ireland Campus in Blanchardstown on Saturday, 24th September to experience over 40 different sports at the #BeActive Festival. 
Part of European Week of Sport 2022 which runs from the 23rd – 30th of September, the #BeActive Festival introduces people to the wide variety of sports that they may not have experienced before.
The event provides opportunities for both adults and children of all ages and abilities to trial the world-class facilities at the Sport Ireland Campus and sample many sports and activities that are showcased throughout the day, alongside well-known faces from Irish sport, and the chance to lift some of Ireland's most famous silverware like Sam Maguire or the Triple Crown.  Hurling All Ireland Winner Barry Nash, 7s rugby player Stacey Flood, Olympian boxer Brendan Irvine and legend Alan Brogan and many more were in attendance.
The festival was filled with skill challenges, demonstrations, sports personality appearances, taster sessions, trophy zone, food village, music and much more!  
A European Commission led initiative; European Week of Sport aims to increase the level of participation in sport and physical activity in the EU. European Week of Sport aims to tackle the inactivity crisis and reduce obesity levels by encouraging Europeans to embrace a healthier and more active lifestyle. Multiple events throughout the week are proudly supported by partner Healthy Ireland.
The week is for everyone, regardless of age, background, or fitness level. By bringing awareness to the fact that an active lifestyle is for everyone, European Week of Sport aims to act as a springboard in to being more active.
Chief Executive of Sport Ireland, Una May, said "European Week of Sport and the #BeActive Festival are brilliant initiatives which bring people from all backgrounds together to try out a range of different sports and activities in the unique surroundings of the Sport Ireland Campus, demonstrating that this truly is a campus for all."
Michael Murray, Chief Operating Officer, Sport Ireland Campus said; "We hope the BeActive Festival will help to inspire the next generation of Irish stars and foster a lifelong love of sport and show them they are always welcome here at the Sport Ireland Campus, the Home of Irish Sport."
Barry Nash, All Ireland Hurling Winner – "Sport has the unique ability to bring people of all ages and abilities together. It's fantastic to see so many people as possible to come down to BeActive Festival to enjoy the facilities and sample some sports they may have never tried before."