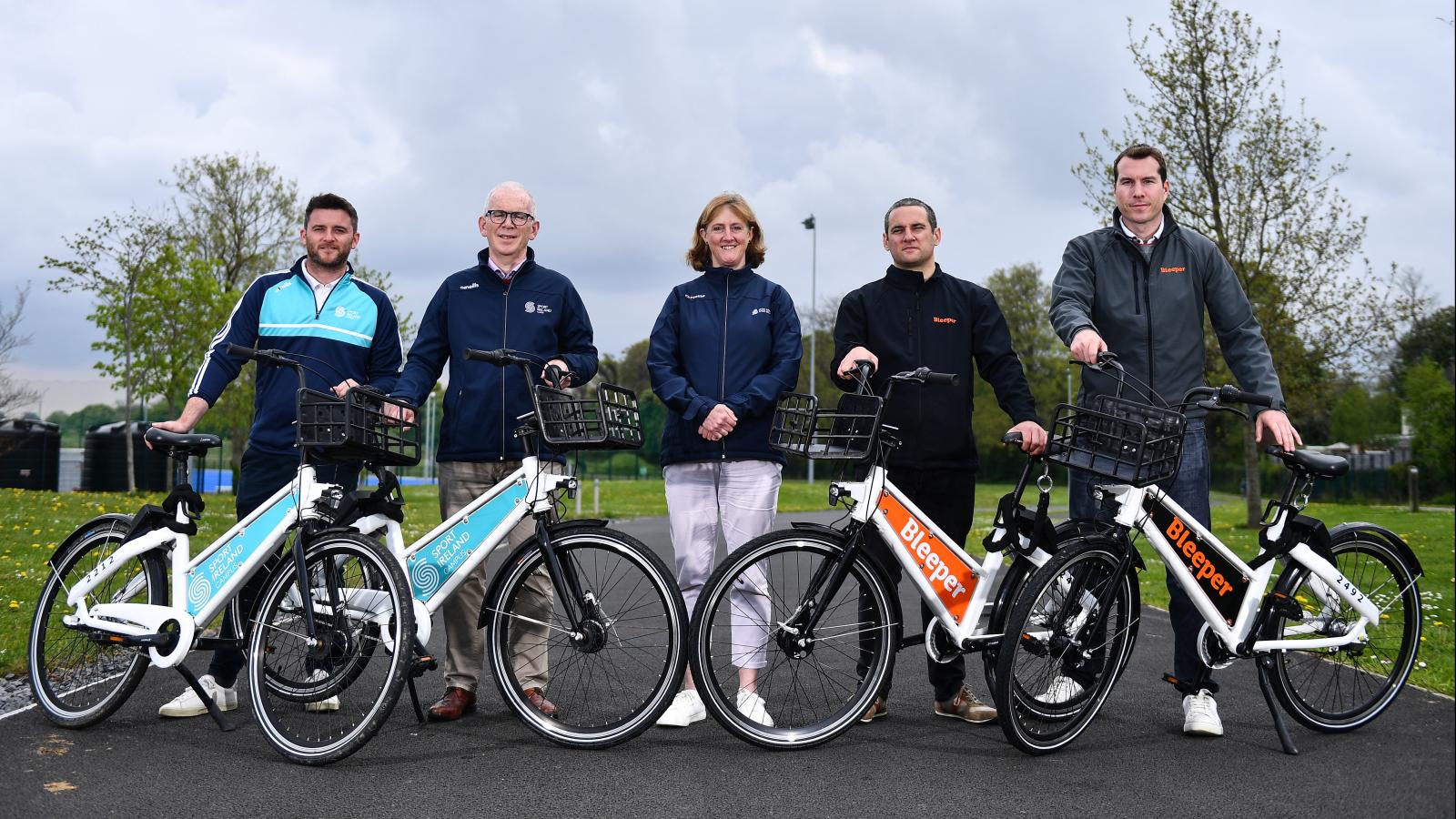 Climate & Health Friendly Bike-Sharing has arrived at Sport Ireland Campus.
Sport Ireland Campus has joined Bleeper Bikes, the bike-sharing scheme to allow visitors to travel across the Campus or within any of Bleeper's Purple Zones in Dublin City, Fingal County, and Dun Laoghaire – Rathdown, in a climate-friendly, convenient and affordable active travel way, reducing carbon emissions from private cars.
This climate-friendly, sustainable transport solution allows cyclists to 'grab and go' a GPS enabled bicycle to and from the Sport Ireland National Aquatic Centre (at the Sport Ireland Campus entrance). Bleeper's bicycle fleet now covers an area of 100km² across Dublin City, Fingal County, and Dun Laoghaire - Rathdown.  
This service is simple to use through the Bleeper app. The Bleeper app can be downloaded from the Apple App Store or Google Play. Users simply download the Bleeper app and register for the service. They can then pick up any available Bleeper bike by scanning the QR code on the bike to unlock it. The app can even be used to prebook a Bleeper bike to ensure the bike is waiting for you when you arrive. Once cyclists arrive at our dedicated Bleeper parking area or in another area where Bleeper operates, they lock the bike manually using the provided bike lock.
All available bikes at Sport Ireland Campus can be viewed and unlocked within this Bleeper app now. The bikes at the Sport Ireland Campus are available during Campus opening hours (6am - 10pm Monday to Friday / 8am - 8pm Saturday & Sunday). 
The cost for the Public Scheme is €1 unlock fee and €0.02c per minute (€1.20 per hour) after that. Click here to learn more about Bleeper Bikes. 
Good news for Sport Ireland Campus staff, Sport Ireland Campus has joined a Private Scheme which allows staff working on Sport Ireland Campus to travel across the campus free of charge to explore the grounds, travel to/from meetings or during lunch breaks, on dedicated Bleeper Bikes, identifiable in person by their Sport Ireland Campus branding. These Sport Ireland Campus branded bikes are located at various bike stand locations around the Sport Ireland Campus. Sport Ireland Campus staff can email Multisportsteam@sportirelandcampus.ie to find out how to sign up for the free Campus Private Scheme.