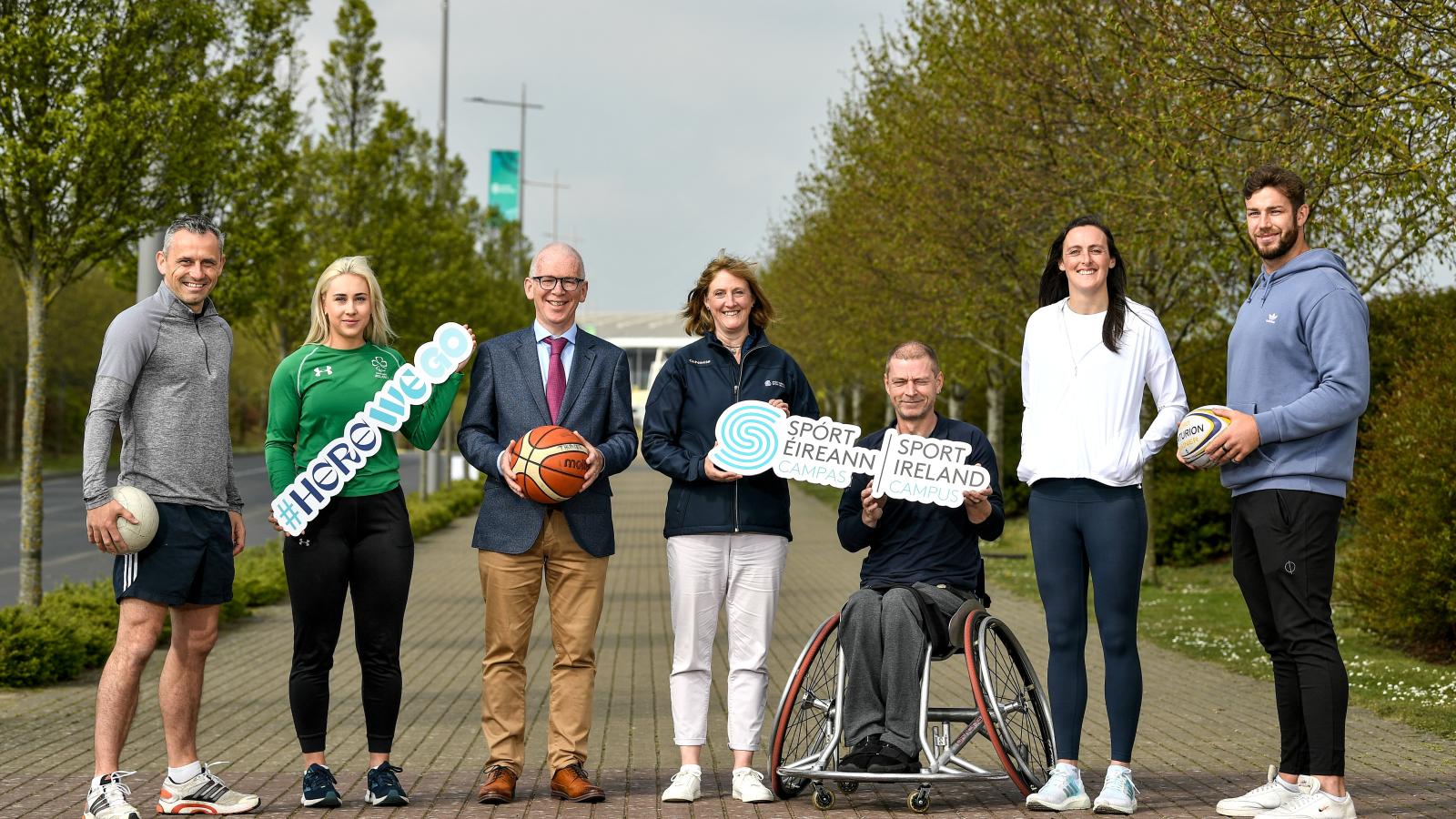 'Here We Go' at Sport Ireland Campus
Hannah Tyrrell, Caelan Doris and Alan Brogan were amongst the athletes at the Sport Ireland Campus to launch 'Here We Go', a campaign designed to raise national awareness and pride in the world-class facilities at Sport Ireland Campus and to encourage everyone to take the opportunity to experience the home of Irish Sport.
Sport Ireland Campus is open to everyone in Ireland. High-performance programmes based in Sport Ireland Campus include the IRFU, Swim Ireland, FAI, Hockey Ireland, Badminton Ireland, and Gymnastics Ireland.  International teams such as the All Blacks also use the facilities for their training camps when visiting Ireland. However, besides the high-performance athletes, Sport Ireland Campus also caters for the needs of the local community and is open to visitors from around the country for events or facility hire. 
Sport Ireland Campus is ideal for team or individual training and boasts world-class indoor and outdoor facilities which host local, national, and international events. Many of our current and future Olympians train at the Sport Ireland Campus to prepare for competitions around the world.
Sport Ireland Campus provides valuable amenities for the local community with facility rentals, kids camps, sports academies, birthday parties, team-building events, corporate conferences and more.  Furthermore, there are also inclusive programmes for athletes with disabilities and people recovering from chronic illness.
The 'Here We Go' campaign, has been developed to champion these world-class facilities by engaging with the public and encouraging them to learn more and get involved.
Sport Ireland Chief Executive Officer Una May said: "With the full return of sport I would encourage everyone to find out more about the Sport Ireland Campus and to see how they can take advantage of some of the programmes, facilities or events taking place here. We should all be immensely proud of the Sport Ireland Campus and the scale of activity that takes place here from high performance athletes to everyday amateurs"
Sport Ireland Campus COO Michael Murray commented: "The 'Here We Go' campaign is a reminder of the central position the Sport Ireland Campus holds as the home of Irish Sport. There are some exciting plans for development over the coming years and we continue to develop the Sport Ireland Campus participation programmes."
Ireland and Leinster rugby player Caelan Doris said: "The facilities at the Sport Ireland Campus really are world class and it's always exciting to train and prepare here for the big stage. I'd recommend everyone to learn more and see how they can get involved"
To learn more about the Sport Ireland Campus visit www.sportirelandcampus.ie
Watch the Sport Ireland Campus 'Here We Go' video below: