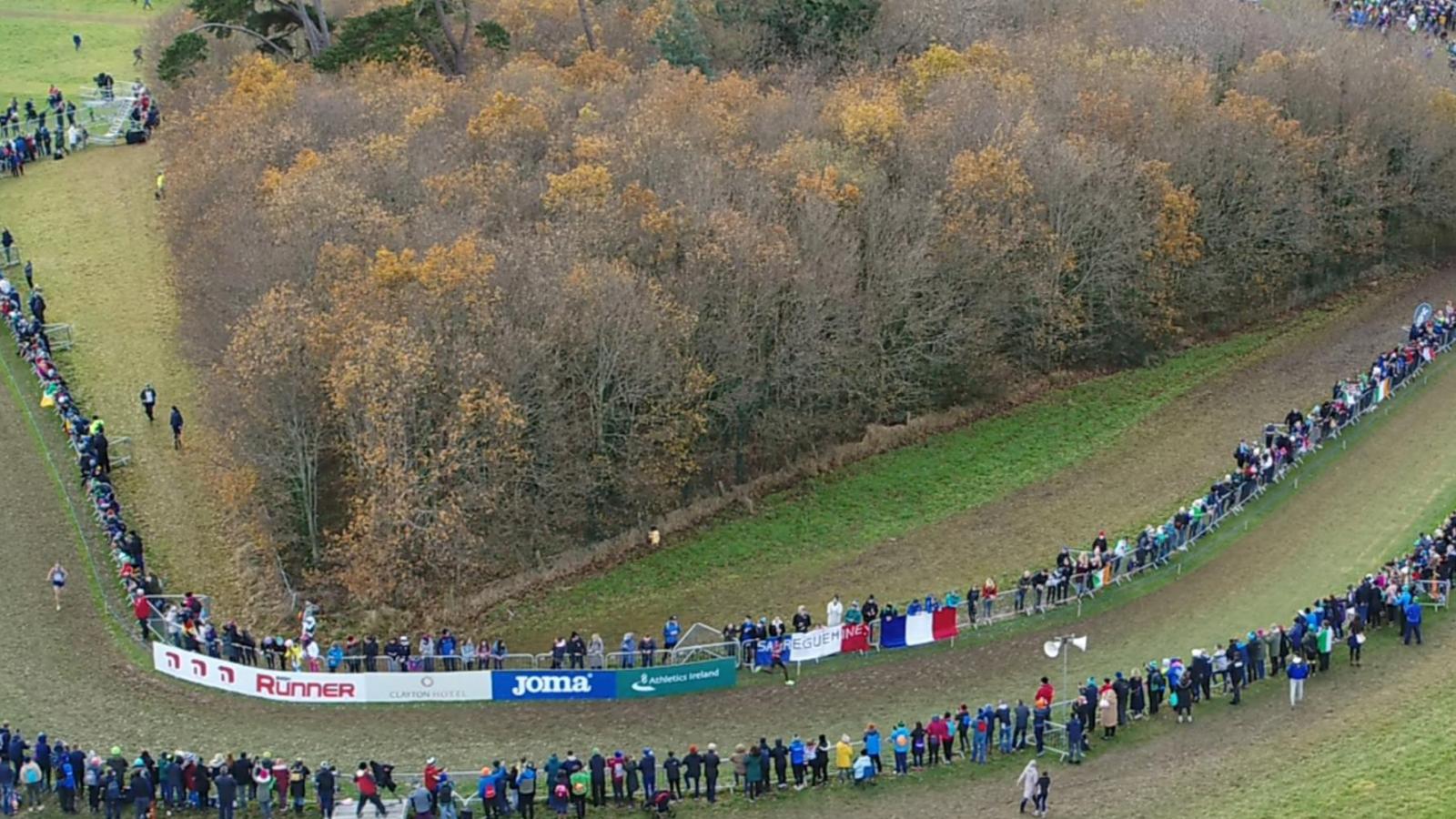 Sport Ireland Campus set to host UCI Cyclocross World Cup Event
Sport Ireland Campus is set to host a key round of the 2022-2023 UCI Cyclocross World Cup on December 11th. It will be the 9th round in a total of 14 events, starting on October 9th in Waterloo, USA.   
Sport Ireland Campus will host some of the leading lights of international cyclocross in the first event of its kind to be hosted in Ireland. 
Cyclocross (also known as CX) is one of the most fast-paced and accessible disciplines in all of cycling. The discipline – likened to cross-country running on wheels - combines many of the skills used in standard road and mountain biking with an added emphasis being placed on bike handling skills as the riders navigate the sometimes bumpy and muddy terrain and physical fitness.  
The Sport Ireland Campus recently hosted to the European Athletics Cross-Country Championships on its purpose-built cross-country track, with thousands of fans flocking to the home of sport in Ireland, and event organisers – the UCI & Flanders Classics – will be hoping for similar crowds this December. 
"We're very proud to add Dublin this season", says Flanders Classics CEO Tomas Van Den Spiegel. "We'll be racing in a true Irish environment. That will give the Dublin round its own identity, just like we've seen for the Val di Sole and Flamanville races in the 2021-2022 season. December will be very exciting, because one week before heading to Dublin we'll be racing in Antwerp, after postponing the race last year. And one week later the second edition of the Val di Sole round is on the agenda. We hope to be able to establish a long-term relationship here and in the meantime we will continue the work to add London to the schedule for the 2023-24 season." 
Sport Ireland Chief Executive Dr Una May welcomed the announcement: "Sport Ireland is thrilled to host this prestigious event on the Sport Ireland Campus. The staging of a major international cycling event is another milestone for the Sport Ireland Campus, which has played host to major events across a wide range of sports to great success. Cyclocross is a discipline that is experiencing rapid growth globally. Sport Ireland extends its thanks to the UCI & Flanders Classics for choosing the Sport Ireland Campus to host this event. 
"The hosting of the Cyclocross World Cup event in Ireland not only will bring significant sporting benefits but also has significant potential from a tourism perspective with large crowds travelling to cyclocross events right across Europe. Sport Ireland will be working closely with Government and tourism partners to ensure that this event is used to showcase the very best of what Ireland has to offer. We look forward to welcoming the Cyclocross Family in December." 
Sport Ireland will partner with Cycling Ireland on the staging of this event. The knowledge, expertise and enthusiasm of the Irish Cycling community will no doubt make this an unforgettable event.  
Cycling Ireland Chief Executive Matt McKerrow is excited the event will showcase the cyclocross discipline: "Cyclocross is growing in popularity and lends itself nicely to the natural environment in Ireland, especially in the winter months. With off-road versions of the sport more popular than ever, it will be a great spectacle for cycling enthusiasts and newcomers to the sport to experience. There'll even be some participation races around the main events for everyone to give it a try. We'd like to thank Flanders Classics and the Sport Ireland Campus for making a Dublin round of the series a possibility" 
The Sport Ireland Campus has plans in place for a challenging and entertaining cyclocross course that will be the envy of many. The Sport Ireland Campus in conjunction with Flanders Classics will use existing lands at the venue to create a world-class cyclocross route with an Irish touch, incorporating both natural and built features creating a spectacular experience for riders and fans alike. 
Further details on the course layout and ticketing arrangements will be announced in due course