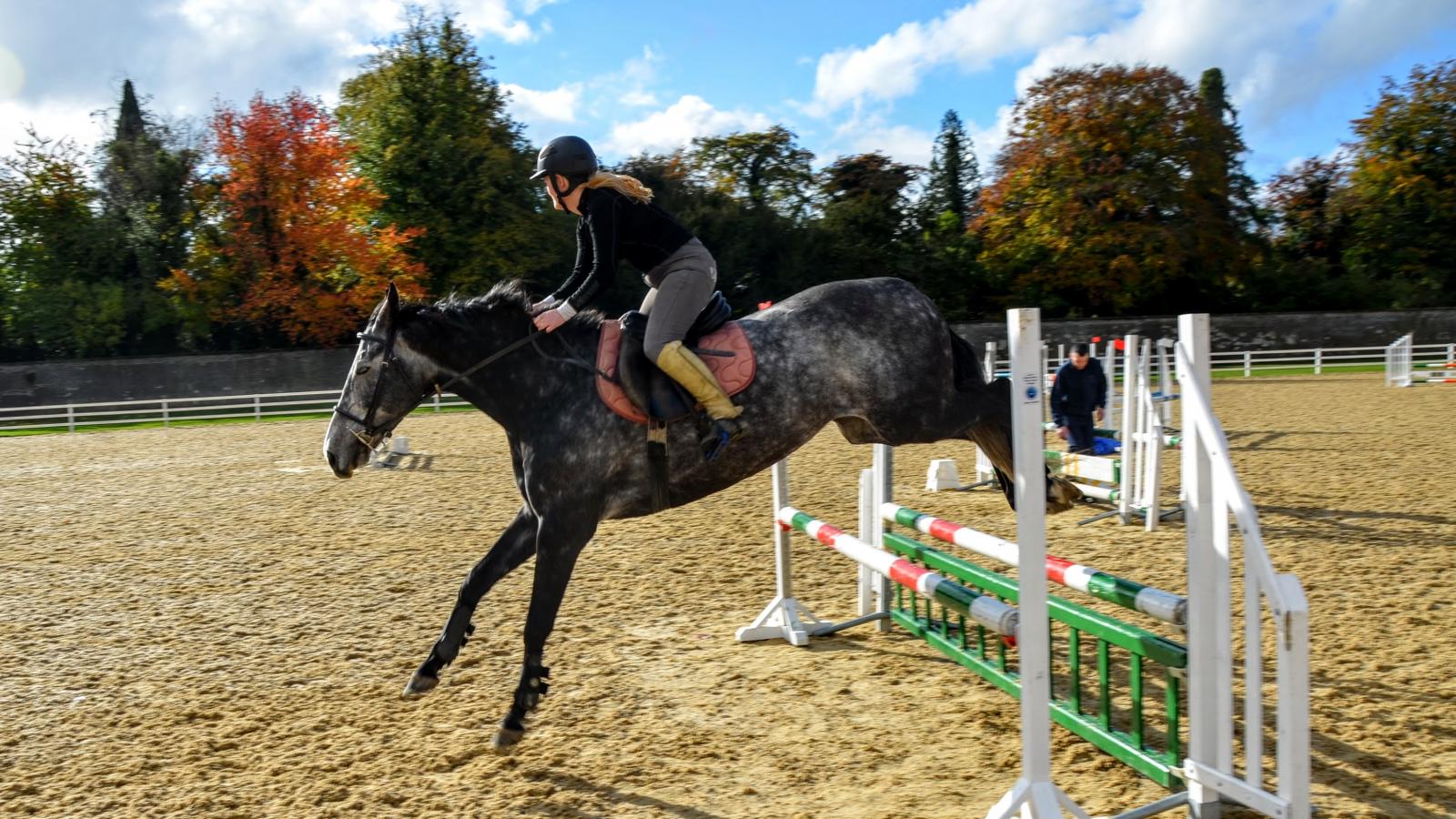 National Horse Sport Arena
The Sport Ireland National Horse Sport Arena is a multi-use Olympic-standard Equestrian training facility.
Individual scheduled sessions at the Sport Ireland National Horse Sport Arena are available to book online or via the Sport Ireland Campus App
For exclusive bookings, please email bookings@sportirelandcampus.ie
Please note the following important information:
- The Arena is available for bookings during the following times:
Tuesday 11-1pm
Wednesday 11-4pm
Thursday 11-4pm
Friday 11-1pm
Saturday 10-1pm
*any bookings outside these hours – please email bookings@sportirelandcampus.ie
- You cannot visit the Horse Arena unless you have booked and paid online. Do not enter the grounds under any other circumstances.
-Sessions cost €16.50 per horse for 45 minutes.
- No more than 4 horses will be permitted in the facility
FAQ
How many horses will be at the session? 
At a fully booked standard session there will be 4 horses permitted in the arena at any one time.  
How do I book a session?
Using the online booking system or the Sport Ireland Campus App, you can book your session. 
What way is the horse arena set up?   
Course of show jumps with warm up area provided. If a different layout is required for an exclusive booking details must be provided at time of the booking on the form. We will try to the best of our abilities to accommodate your request.  
Can I book in more than 1 horse?  
 Yes, using the online booking system, you can book up to 4 horses for the training session, however you must book one at a time. If you required more than 4 horses at a session, please enquire about exclusive bookings.  
I have booked in my horse, now what?  
·       Ensure you arrive with all equipment you will require for the session.  
·       Parking is available for horse transporters.  
·       Riders are requested to only mount their horse when in the horse arena 
·       The walkway to the horse arena is a shared space, please be mindful of pedestrians. Those walking horses to the arena are responsible for the animal.   
·       Please be advised safety wear is mandatory while riding in the horse arena (IE hat, boots)  
Are there toilet facilities nearby? 
  Yes  
Is there any stables available?   
Yes 
Can I clean out my horse box somewhere while I am waiting on the rider to finish their session?   
No, all waste must be removed by the booker.  
Can I bring a coach?  
Yes, their details can be included on the online booking form.  
I have booked my child in to a session can I bring my family to watch?  
One guardian will be permitted access to the horse arena whilst a child is training. Other family members will not be permitted however can enjoy a walk around campus grounds while waiting for the session to finish.  
Is there water available for horses at the horse arena?  
Customers are requested to supple their own bucket however there is a tap in the parking area where drinkers can be filled.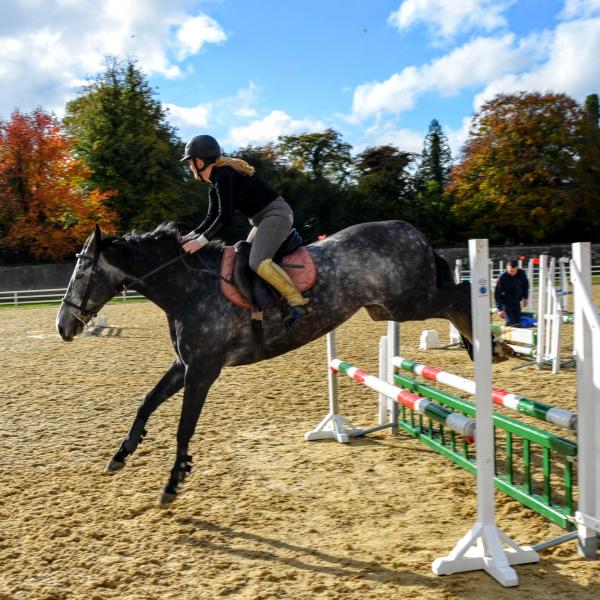 The Facility
Situated in the picturesque surrounds of the old walled garden of Abbotstown House, the Arena is designed as a High-Performance Training Centre for Showjumping, Dressage, Carriage Driving, Pony and Eventing.
About the National Horse Sport Arena
This is an elite Training venue

Full set of show jumps is available

There are 10 upgraded stables on-site

A Full Car Park with lots of space for horse boxes/Lorries available
Sand Arena
The 100m x 55m Arena is a sand fibre mix replicating the London 2012 Olympic Arena. The sand mix is made from a unique blend of multi-washed sand blended with 3 types of polypropylene fibre and a synthetic binder to provide the true footing of the future. The surface is proven for the full range of Olympic and Paralympic disciplines and is endorsed by the FEI.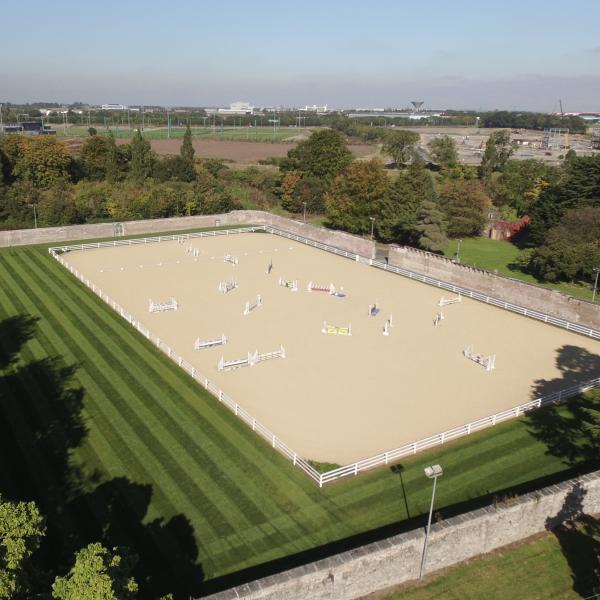 Grass Arena
The 121m x 32m Grass Arena is 70mm Ameliorated sand/topsoil mix on 120 mm topsoil on an accompanying pattern of mole and slit drains. The natural grass arena will be used for high-performance training purposes for Showjumping, Eventing and Dressage.
|   | Price | Venue Status |
| --- | --- | --- |
| Price Per Horse Per Hour | €15 | Shared Arena |
| Exclusive use of venue per hour | €80 | Exclusive use of Arena |
| Daily Rate | Please Contact Bookings Team | Exclusive use of Arena |