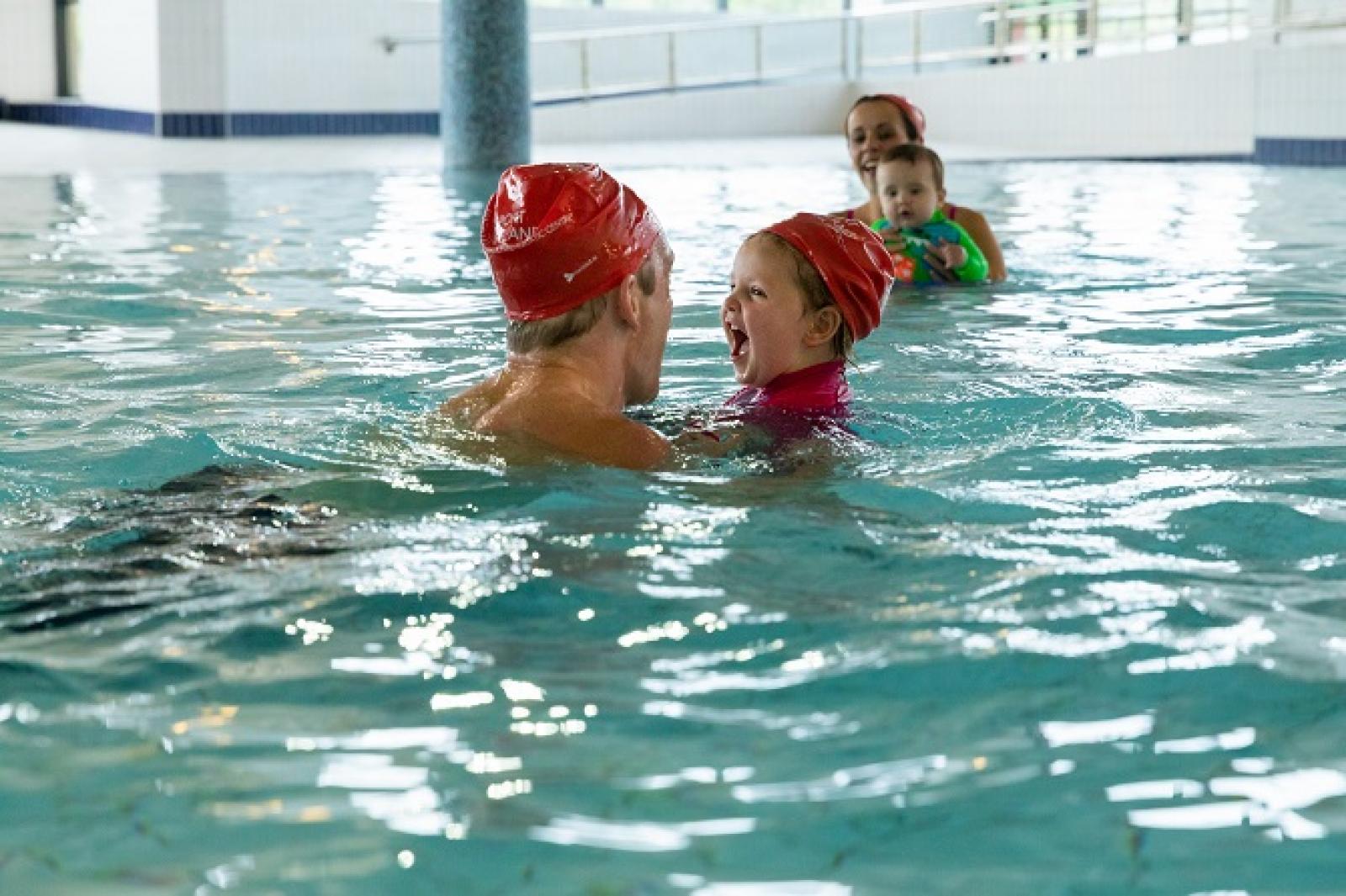 At Sport Ireland Campus our competition pools are used to teach kids how to swim and to provide a facility in which elite athletes and the community can use swimming as a way to get fitter,more active and to train. However, it's important to remember that swimming can also be fantastic fun! so whether you want to help your children practice their swimming skills or your family needs some bonding time, Family Swim is the perfect option for you!
Available times
Family Swim Availability
Pool A

| Times | Day |
| --- | --- |
| Monday | 12:00-14:30 |
| Wednesday | 12:00-14:30 |
| Thursday | 10:00-14:30 |
| Friday | 12:00-14:30 |
| Sunday | 10:30-15:30 |
Terms & conditions:
All children under 3 years of age must be accompanied by a responsible adult / person (over 18 years), on a one to one basis.
Children aged under 8 years must be accompanied by a responsible adult / person (over 18 years), with a maximum of 2 children being supervised by 1 adult.
These sessions are for parents/guardians to attend with children only – no unsupervised children permitted 
Shower facilities are currently unavailable at the NAC. Changing area is the the Aquazone Villages and toilets are in the group change area on the way to Pool A
An adult is classed as a person aged 18 or over.
Single adults must be accompanied by a child/ children.
Children 3 & under go free.
Entry wristbands must be worn at all times in the competition pool .
Wristbands are issued to all pool users customers are to enter through the turnstile gates at reception.
As a precaution for an evacuation situation, we request that all weak swimmers or persons with a medical condition inform reception who can provide a wristband so lifeguards can provide assistance.
It is recommended that all under 5's (those aged 1 to 4) wear floatation devices (e.g. armbands).
Prices and times may change at Management's discretion.
No spectators allowed on poolside.
Customers cannot exit the pool hall (e.g. to café) and then return to the pool.
Swim hats are compulsory in all water areas.
Management reserves the right to refuse admission.
No balls, inflatables or snorkel gear are permitted.
No cameras/phone in the village areas and Aquazone
€1.00 coins are required for the lockers and items are left at your own risk
Members require a wristband for access into the competition pool, which can be collected from reception.
Family swim sessions are in Pool A. No access to other pools is permitted and wristband must be worn at all times. There will be 1 lane in Pool A for lane swimming only and the rest of the pool will be open space.