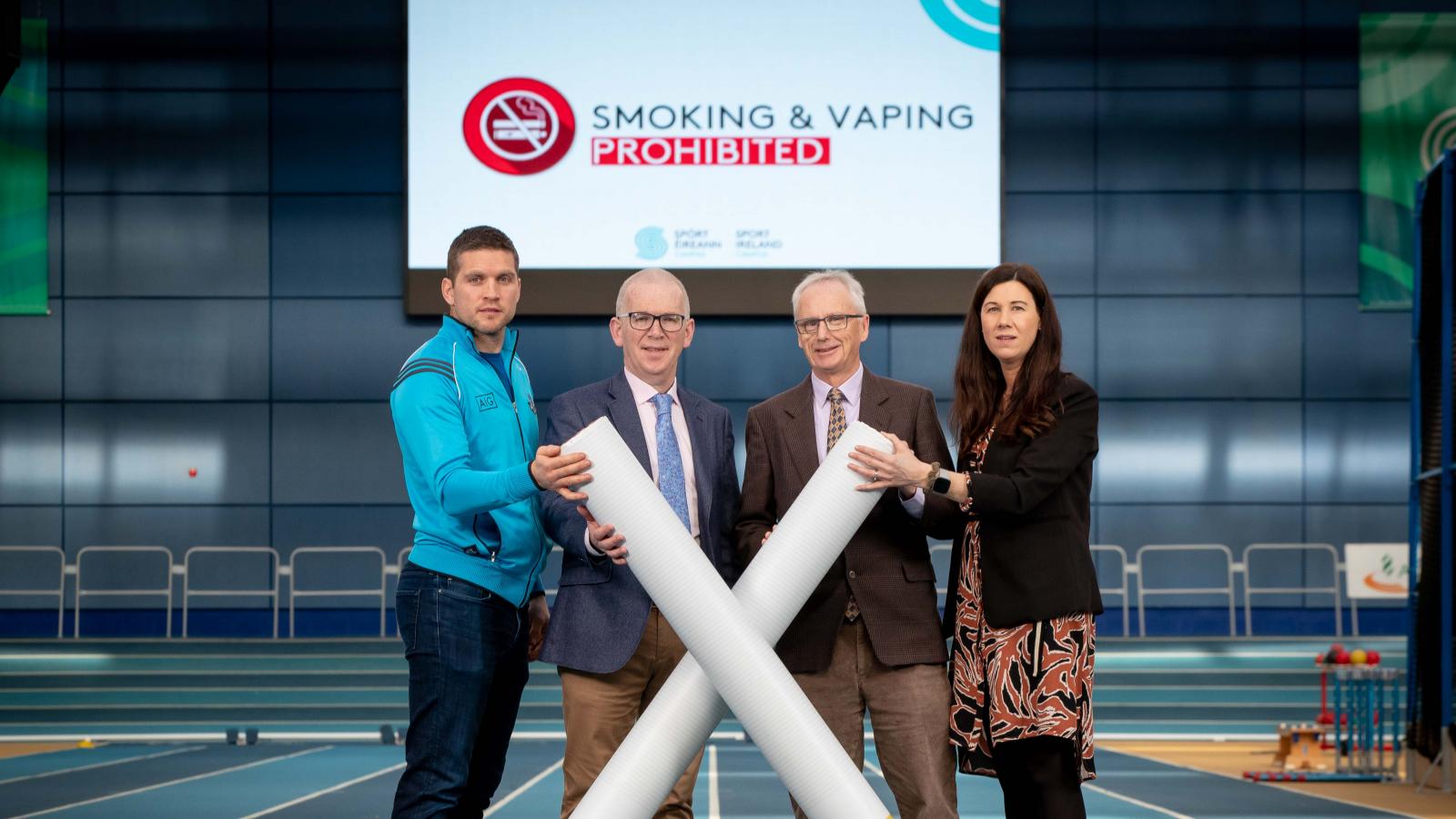 Smoke Free Campus Launch at the Sport Ireland Campus
John Treacy (CEO, Sport Ireland), Martina Blake (HSE National Tobacco Free Ireland Lead) and Conal Keaney (Dublin Hurler) launch Smoke Free Initiative at the Sport Ireland Campus on National No Smoking Day.  From today, smoking and vaping are banned in all public areas in the 500-acre Sport Ireland Campus, aside from a limited number of shelters.
Today, on National No Smoking Day, the Sport Ireland Campus has launched its Smoke Free Campus initiative. As part of the initiative, which aims to completely eradicate smoking. Smoking is now only permitted in a small number of designated smoking shelters across the 500-acre site and is not permitted in any public spaces.
Smoking is the leading preventable cause of illness and premature death with Ireland ranking 2nd highest for smoking related causes of death in the EU. Research indicates that non-smokers who are regularly exposed to second-hand tobacco smoke are also at increased risk of illness.
During 2019, all those employed by the various sporting bodies located on the Sport Ireland Campus were surveyed to gather their thoughts regarding smoking on the campus.  Organisations located on the Sport Ireland Campus include Special Olympics Ireland, the FAI, the IRFU, Sport Ireland Institute, Swim Ireland, Gymnastics Ireland, and 23 other sporting organisations. 
A survey of employees in sporting bodies located on Campus showed that:
86.26% felt that having a smoke free campus would have a positive impact on their on-campus experience; 

89.58% agreed, or strongly agreed, that second-hand smoke is a hazard;

99.53% felt that smoking should be completely banned on campus or have designated areas for smoking.
Smoking is now prohibited outside all buildings on the Sport Ireland Campus, including the Sport Ireland National Aquatic Centre and Sport Ireland National Indoor Arena. New smoking shelters located to the rear of the buildings, and no smoking signage installed throughout the campus will cater for customers, and users of all offices and facilities throughout the campus.
From today, 26th February 2020, all those who wish to smoke on campus are only permitted to smoke within one of these shelters.
John Treacy, Chief Executive Officer, Sport Ireland, said:
"We are proud that the Sport Ireland Campus is now tobacco and e-cigarette free with the exception of designated smoking shelters.  Thank you to the organisations that took part in the research which will ultimately result in a cleaner, healthier environment on Campus for all."
Martina Blake, HSE National Tobacco Free Ireland Lead said: "We are delighted to see more and more facilities, hospitals, colleges and now the Sport Ireland Campus become Smoke Free.  Stopping smoking, at any age, is the single most important thing a person can do to improve their health and we are very pleased that Sport Ireland Campus is providing such an environment"
Kate O'Flaherty, Head of Health and Wellbeing, Department of Health said:
"We'd like to congratulate the Sport Ireland Campus on the leadership they've shown in setting their campus as a positive example for others. Denormalising smoking in a sports campus where many of our children take part in sports on a daily basis is a significant move towards creating the cultural shift that we need to create a healthier Ireland."
Conal Keaney, Dublin Hurler:
"Sport has always been a big part of my life and like all athletes, I want to train in a healthy environment.  For any athlete training in the Sport Ireland Campus, it is important that the environment and facilities are high quality and free of smoke.  I'm delighted to be here today at the launch of this Smoke Free Initiative, and I look forward to more and more facilities becoming smoke free in the future."  
For help and advice on how to quit smoking please visit www.quit.ie
Call the National Smokers' Quitline 1800 201 203      
Contact your local HSE smoking cessation counsellor
Talk to your GP, Pharmacist or Dentist